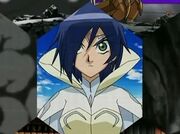 Fabia-sama
Queen Fabia
Fabia Kazami
Fabia Sheen-Kazami
Fabia Sheen is a character from Bakugan and is the current neathian queen, she ascended to the throne after her older sister stepped down to become the ambassador for neathia and gundalia. She is the wife of Shun Kazami, they got married a few months after the fourth shinobi world war.
Personal info
Edit
Gender: Female
Race: Neathian
Age:
GI: 16
MS Arc 1: 17
Part 1: 19-20
Part 2: 22-24
The Last: 26
Birthplace: Neathia
Hair color: Blue
Eye color: Green
Skin color:
Peach (human form)
Purple with a pink tint (neathian form)
Occupation:
Princess of neathia (formerly)
Queen of neathia
Affiliation:
Bakugan Battle Brawlers
Konohagakure
Neathia
Team:
Bakugan Battle Brawlers
Castle Knights
Clan: Kazami Clan
Family:
Serena Sheen (sister)
Shun Kazami (husband)
Juliet Glenn (daughter-in-law)
Fuyuki Kazami-Glenn (grandson)
Haruma Kazami *real name: Haruma Uchiha* (grandfather-in-law)
Asura Uchiha (father-in-law)
Shiori Kazami (mother-in-law)
Floria Kazami (daughter)
Rin Kazami (daughter)
Fenikkusu Kazami (son)
Jin Kazami (son)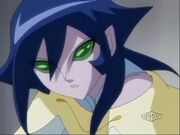 Ad blocker interference detected!
Wikia is a free-to-use site that makes money from advertising. We have a modified experience for viewers using ad blockers

Wikia is not accessible if you've made further modifications. Remove the custom ad blocker rule(s) and the page will load as expected.