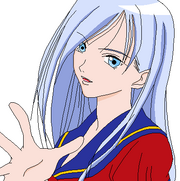 Leaf Glenn
Leaf is the daughter of Apollonir and Lars Lion, and the wife of Jesse Glenn. She is the mother of Juliet Glenn and Antonio Glenn, and grandmother of Fuyuki Kazami-Glenn. She is partnered with pyrus Leonidas and Haos Regulus.
Personal info
Edit
Gender: Female
Race: Bakugan
Species: Dragonoid
Age:
10 (BB)
13 (NV)
14 (GI)
15 (MS Arc 1)
16 (MS Arc 2)
35
G Power:
500 (originally)
1200 (currently)
Birthplace: Doom Dimension
Attribute: Pyrus/Haos hybrid
Eye color: Ice blue
Hair color: Light blue
Skin color: Peach
Affiliation: Bakugan Battle Brawlers
Team:
Bakugan Battle Brawlers
Bakugan Battle Brawlers Resistance
Neathian Castle Knights
Attribute(s) used by this brawler: Pyrus and Haos
Bakugan world rank: 4th
Family:
Apollonir (father) †
Lars Lion (mother) †
Jesse Glenn (husband)
Juliet Glenn (daughter)
Jin Kazami (son-in-law)
Fuyuki Kazami-Glenn (grandson)
Antonio Glenn (son)
Pyrus Leonidas (*nicknamed Leo* bakugan partner)
Haos Regulus (bakugan partner)
Ad blocker interference detected!
Wikia is a free-to-use site that makes money from advertising. We have a modified experience for viewers using ad blockers

Wikia is not accessible if you've made further modifications. Remove the custom ad blocker rule(s) and the page will load as expected.